Maren Winter/Shutterstock
BY SAMANTHA MAXWELL/DEC. 16, 2021 9:06 AM EDT
If you love drinking wine, it always makes sense to keep a bottle or two in your house for when you want to pop one open to enjoy with dinner. But what you may not realize is that there is more than one use for your wine. A variety of wines can be added to dishes to add flavor, acidity, or just some complexity to your food. So, whether you have a splash of leftover wine you're looking for a way to use up or you've found a recipe that specifically calls for wine, it's a fun way to switch up your cooking from time to time.
You may be more used to seeing white wines in recipes, but there are a plethora of recipes that call for red instead. While white wine may pair well with chicken and seafood dishes, you'll often see red wines in dishes featuring beef, lamb, meat, and pork. The heavier, richer flavor works very well with savory, fatty foods. Generally, if you want to cook with red wine, you should think of a varietal that would pair well with your meal if you were just sipping it on the side — this is an indication that it'll be delicious when you cook with it as well.
Feeling lost when it comes to what kind of red wine to add to your favorite dishes? Let's take a look at some of the best red wines for cooking so you'll know what to look for.
Cabernet Sauvignon
Facebook
Let's start out with one of the most easily recognizable varietals of them all. Chances are, you've had Cabernet Sauvignon before. It's widely available at grocery stores and wine shops alike, so it should be easy to find no matter where you live. It's a full-bodied wine that goes well with a variety of dishes, so it makes sense to keep some of this stuff on hand if you tend to cook with red wine frequently. According to Master Class, it's an ideal wine for braising meats such as ribs.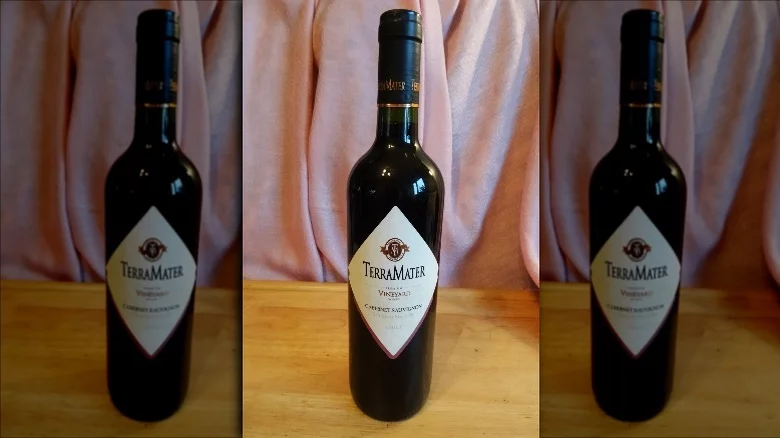 Why is it so ideal for braising? Well, it can help to soften the meat and add flavor at the same time. Then, when you're finished braising the meat, you can use the liquid that's been left behind and use it to make a glaze. Doesn't that sound delicious? It's also a great wine to use if you're trying to deglaze a pan. Because of its low sugar content, you're not going to have a problem with it caramelizing in the pan.
Beginner wine cookers, this is an excellent place to start.
Nebbiolo
Generally speaking, you don't want to use red wines with a high tannin content in your cooking because when the alcohol cooks off, you can be left with a flavor that's bitter and slightly chalky — in most dishes, that's far from ideal. However, there are always exceptions to the rule, and that's what we love about Nebbiolo. While Nebbiolo isn't as common as Cabernet, it's still pretty easy to find in most places with a good wine selection. It's a rich, deep red with plenty of acidity, which also makes it a fantastic wine for braising, according to Eat This, Not That!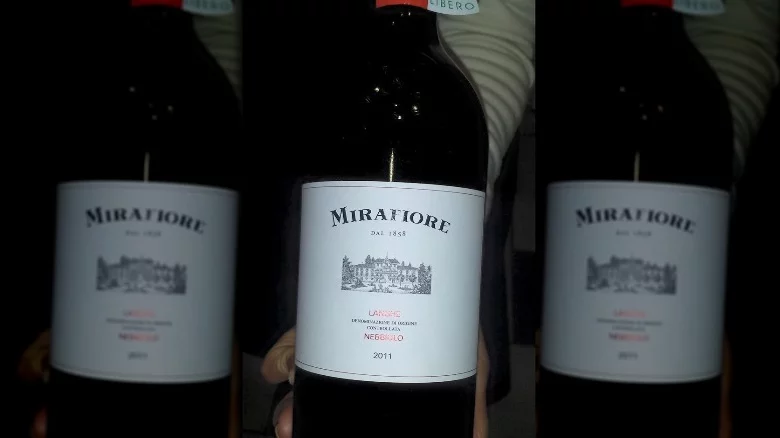 It's advantageous to find a Nebbiolo that features notes of black pepper, especially if you decide to pair it with red meat. Eat This, Not That! suggests that it would be excellent with wild boar, which is a fun take. If you're looking for something different yet not too out of the ordinary, we think that Nebbiolo is a solid option.
Shiraz
Full-bodied and often somewhat fruity, Shiraz should also be up for consideration when you want to cook a meal with red wine. Shiraz often has a peppery, slightly spicy flavor to it, which means it's generally going to taste good when you pair it with meat. Winery-Sage says Shiraz is particularly delicious with lamb, and if you're taking a stab at cooking this often-overlooked meat, then a bottle of Shiraz should certainly be on your shopping list.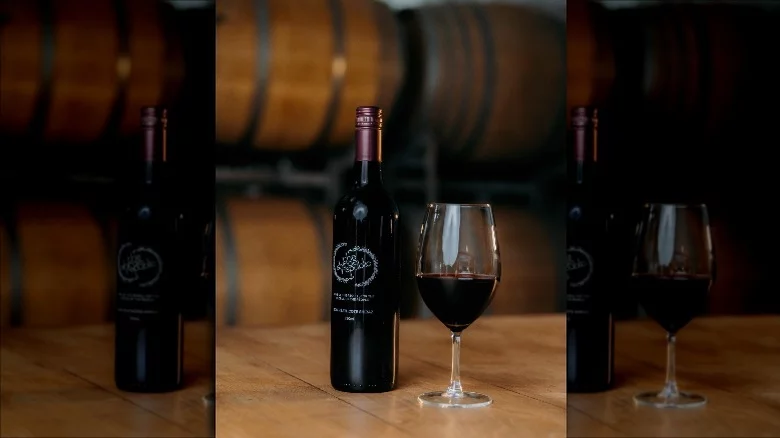 AllRecipes has plenty of suggestions if you're looking for recipes to pair with the leftover Shiraz you have sitting in your kitchen. You could go with a cassoulet or a pan-fried duck breast if you want to stick to something expected, but don't be afraid to branch out and pair it with grilled sausage or chipotle chili.
As Shiraz is a very versatile grape, you can really get creative if you're cooking with it. Pick up a bottle the next time you're shopping for wine.
Pinot noir
While you may think that red wine only goes well with exceptionally heavy, rich dishes, that's not always true. There are lighter reds out there that pair well with slightly lighter dishes, so don't think you have to stick to white wine if you don't have any on hand. One fantastic varietal for cooking is Pinot noir. We love a good Pinot noir for easy sipping — it's the kind of grape that will appeal to many different kinds of drinkers. But because it's on the lighter side, it's ideal for cooking less intense dishes as well.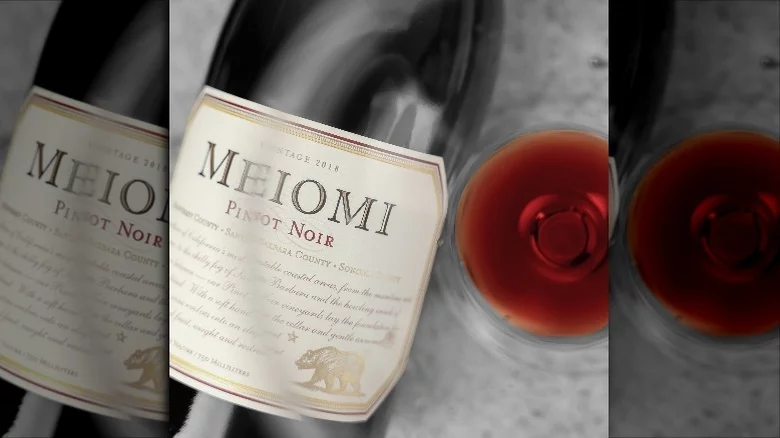 You're generally going to want to include Pinot noir in a recipe that calls for quite a bit of wine, according to Master Class. That's because you'll want to use enough of it to tenderize your meat, but also because the added flavor isn't going to be too strong. We suggest adding it to a hearty, meaty stew in the middle of winter. It takes a comforting dish and makes it feel a little bit fancier and more indulgent, and what's not to love about that?
Zinfandel
No, we're not talking about the excessively sweet white Zin your mom used to sip on. Zinfandel is a fun red with bold, spicy flavors and sometimes even a touch of tobacco. Not only does that make this wine easy to sip, but it's also a good wine to add to your cooking. It definitely doesn't have a subtle taste, so you'll want to avoid adding it to lighter dishes, where it can easily overpower the other flavors. Food and Wine says it pairs excellently with curries and burgers, which is a fun break from the typical boeuf bourguignon-type affair you might expect when you add red wine to a recipe.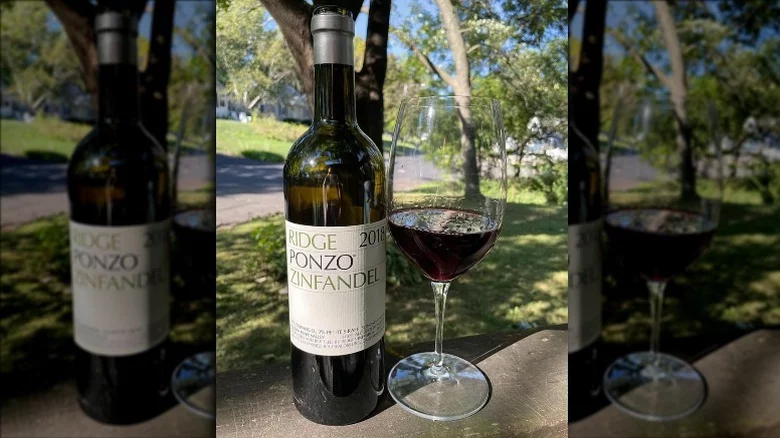 Zinfandelic says that Zinfandel can often be somewhat fruity and jammy, which means that it's a great candidate to combine with many types of meat as well. Though it may not be the most typical red wine you'd think about cooking with, it's definitely something you should try if you have some lying around.
Beaujolais
Many red wines are on the heavier side with a high tannin content, which makes them great for pairing with rich meats and even mushrooms. However, that's not the case with all reds. If you're looking for something a bit different, Beaujolais is an option you should consider. According to Eat This, Not That!, it's made with gamay grapes, which are grown in the Beaujolais region of France. That's located just south of Burgundy, which is a region that produces high-quality yet generally somewhat expensive grapes. Beaujolais, on the other hand, is somewhat similar and is generally less expensive than many Burgundy wines.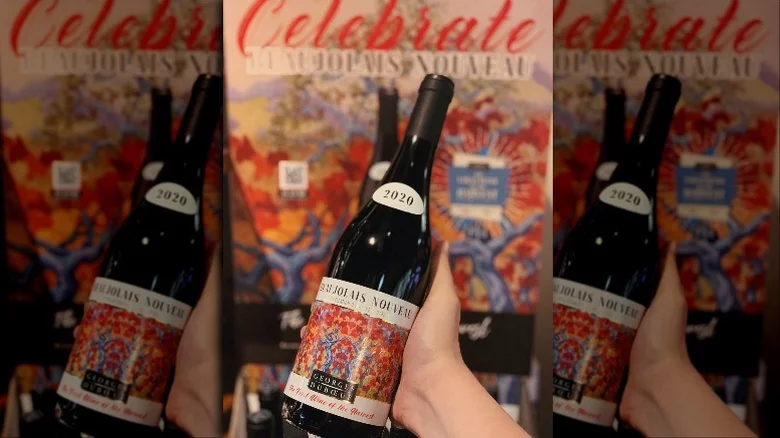 It also has a lower alcohol content than many other wines, which means it cooks down nicely and leaves a wonderful flavor in its wake. If you don't want to stick to the usual suspects, working some Beaujolais into your cooking routine can switch things up in an exciting way.
Merlot
Here's another low-tannin red wine to add to your cooking roster: Merlot. Merlot is another type of wine that's extremely easy to find pretty much anywhere that sells wine. Your grocery store wine aisle is likely to carry a wide array of different Merlots for you to choose from. Generally speaking, we think that you should opt for a cheaper bottle of wine if you plan on cooking with it, and it shouldn't be difficult for you to find a less expensive bottle of Merlot.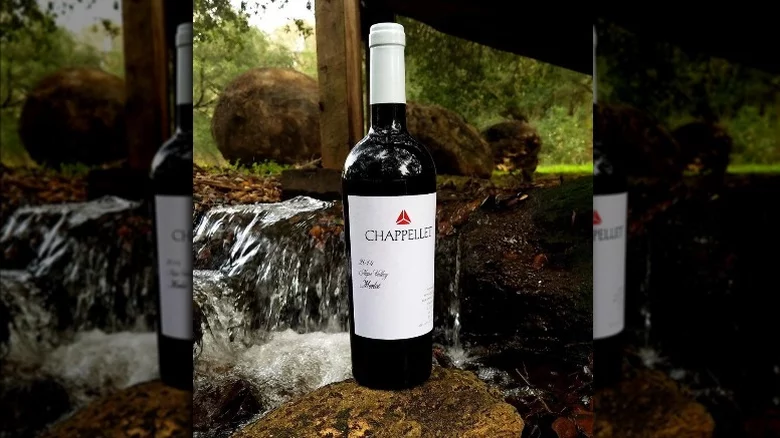 This fruit-forward red wine has a silky quality to it, according to Master Class. It's similar to Pinot noir and Cabernet in that it works well with meat and other proteins. Master Class suggests using Merlot for pan sauces and reductions. That means that you'll combine the wine with other ingredients, like broth or spices, and bring it to a simmer. When it reduces, it will result in a lovely, thick sauce that you can do so much with.
There's a good chance that you already have some Merlot in your kitchen right now, so why not try cooking with it tonight? You may just be surprised at what you manage to come up with.
Bordeaux
Facebook
We already know that Cabernet and Merlot are excellent additions to red wine-friendly dishes, especially when it comes to rich meats and sauces. But what if you don't want to opt for a Cab or Merlot or don't have any in the house? Or what if you just want something different? Well, if you're looking for an alternative, don't be afraid to turn to Bordeaux. According to The Kitchn, Bordeaux pairs exceptionally well with similar dishes that you would expect a Merlot or Cab in. They suggest a beef stew, but there really are so many other dishes you could whip up if you have some Bordeaux on hand.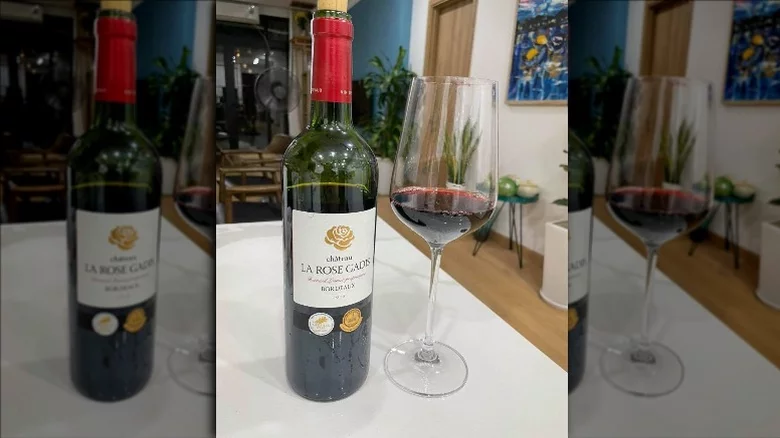 One thing to keep in mind, though: Bordeaux can be on the more expensive side, so keep an eye on the price if this is a bottle of wine you're mostly going to cook with. You don't want to get something that's too pricey because you won't get the full effect of the wine when you add it to your food. We suggest looking for a bottle that's under $20, which is doable depending on where you're doing your wine shopping.
Red blend
Imagine this: You're cooking dinner, and you're preparing a dish that you think could be taken up a notch with the addition of some red wine. However, you don't really know what kind of wine you need to create the best flavor combo. If that's the case, you may be best off going with a red blend, according to The Pioneer Woman. First of all, red blends are super common: They can be made with a variety of different grapes, so you're going to see a red blend at pretty much any store that sells wine. And the best part? Red blends are often less expensive than wine made from a specific grape. That makes this type of red super accessible to anyone who wants to cook with wine.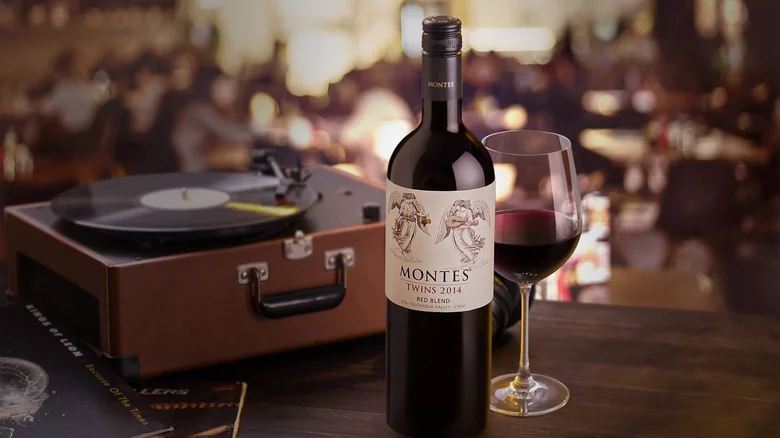 And since they're a mixture of grape varietals, red blends can work really well as all-purpose wines. If you're trying to add a touch of flavor or acidity to your next dish and you're just drawing a blank on which kind of wine to buy, we think that taking the Pioneer Woman's idea and going with a solid red blend is a fantastic idea. Don't forget to take a sip before you add it to the pan!
Chianti
When you're cooking with red wine, you have to watch the tannins to make sure you don't get a dish that's bitter or chalky. That's why choosing lower-tannin varieties tends to make more sense, depending on the dish you're cooking. Therefore, we're big fans of adding Chianti to some of the lighter dishes in our repertoire. This Italian wine packs a ton of flavor without the tannins — Martha Stewart describes the flavor as fruity and earthy, which means that Chianti is ideal for pairing with vegetables and lighter sauces.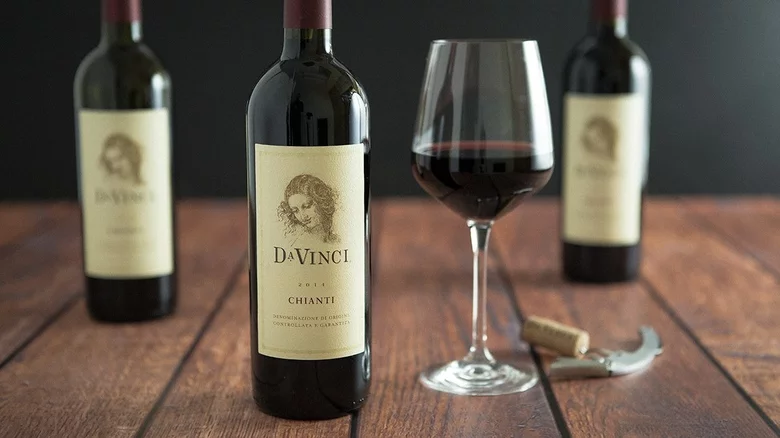 PureWow says that if you're looking for a good wine to add to your tomato sauce, Chianti might just do a good job for you. You can also try adding Chianti to any number of pan sauces that might go well with your dinner. However, you're usually going to want to stay away from Chianti if you're looking for a wine that will do a heavier job, like playing a role in a rich, hearty stew. Because this varietal tends to be
on the lighter side, it's not going to play as well as a Cab or a Merlot in a really intense dish